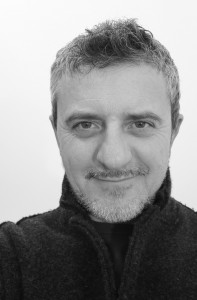 Sandro Pezzi, fotografo e musicista. Numerosi i reportage di viaggio nel mondo, mostre fotografiche e concerti.
Mostre fotografiche Fotografia Europea RE, Palazzo dei principi Correggio; Museo Cervi, Parma letterario, Pordenone letterario, Reggio Emilia, New York
"Irlanda in a Lifetime" 1 edizione (2002) Torri del Benaco
"African vision"(2007)
"Ombre e Passaggi"(2008)
"Eternità temporanea"(2009)
"Estasi e disincanto"(2010)
"Visioni e illusioni"(2011)
"Irlanda, In a Lifetime (2012) 2 edizione
"collettiva Agora gallery New York City" (2012)
"mutazioni urbane"(2013)
"Scarti"(2014)
"Questa terra la mia terra"(2015)
"Base terra, Islanda"(2018)
"Irlanda, storie di mare, di terra, scorci di vita 3 edizione (2022) CASALMAGGIORE
"Curioso esploratore di nuovi stili e autori che sappiano raccontare la propria visione del mondo in modo originale.
Sandro Pezzi's digital photo collages combine the untouchable with the tantalizing, pairing closely-framed flesh with panoramas of brilliant but indifferent cityscapes, fields, and sky. His figures are warm, approachable and unthreatening, but they inhabit indefinable dreamscapes in which shadows can be negative or textured and a woman's body can be both a wall and a source of light. Pezzi favors a pared-down composition, choosing just two or three images to layer over one another for maximum, recognizable believability. These are all the more haunting for their clarity; in the strange land that Pezzi has created, the most mysterious phenomena are presented straightforwardly, as mere fact. For Pezzi, this method contributes to what he calls a kind of "'magic'… capturing the exact moment in which the elements of nature are mixed up to create a perfect symbiosis." His photography career spans two decades and comprises travelogues as well as audio-visual pieces to further explore the mysteries of emotion. He was born in Reggio Emilia, Italy, where he lives and works today.